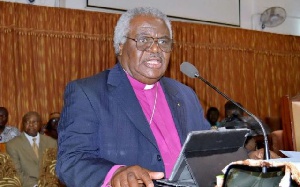 The immediate past moderator of the Presbyterian Church of Ghana, Rev Professor Emmanuel Martey, should provide more details regarding his allegation that some politicians attempted to bribe him to buy his silence, Samuel Atta Akyea, Member of Parliament for Abuakwa South, has said.
The former Moderator has suffered backlash from a section of the Ghanaian public, especially leading members of the governing National Democratic Congress (NDC), for claiming at a press conference on Tuesday, 30 August, that a party he refused to name attempted bribing him with $100,000, a V8, and a mansion at Trasacco Valley in 2013.

Speaking on the issue on Metro TV's Good Evening Ghana on Thursday August 1, Atta Akyea said although he did not doubt the veracity of the claims of Prof Martey, "he should provide further and better particulars" on the matter.

Meanwhile, the Presbyterian Church of Ghana has described as "false, malicious, and defamatory" statements made by the former Public Relations Officer of the church, Dr Emmanuel Osei Akyeampong, alleging that the outgoing Moderator took a bribe of $100,000 from an opposition political leader.

Reacting to Prof Martey's claim that he rejected the bribe, Dr Akyeampong in an interview on the Executive Breakfast Show on Class 91.3FM on Thursday September 1, insisted the outspoken man of God took the bribe and counted the cash with glee. Dr Akyeampong also alleged that he was sacked because he refused the take his share of the bribe.

However, the Presbyterian Church, in a statement signed by Rev George Ezekiel Larbi, PRO, said Dr Akyeampong's appointment was terminated because of acts of misrepresentation and fraud and not because he rejected a $50,000 bribe.
"The Presbyterian Church of Ghana published the reason for his termination of appointment in June 2013. It is, therefore, false to link termination of his appointment to this ridiculous claim he is making," the statement said.

According to the church, its leadership does not support any political party and its leaders are non-partisan in nature, but that they believe that the church should speak out on how the nation is governed and the clergy, like the prophets of old, must be the moral conscience of society.