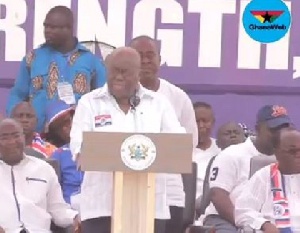 President Nana Akufo-Addo has said the governing New Patriotic Party (NPP) will be spelling doom for itself if it goes ahead to amend its constitution to prevent Ghanaians of dual citizenship from holding any party position or running for same.
Mr Akufo-Addo told party delegates on Sunday that: "I'm against it", warning: "It's a disaster".

The idea of barring dual citizens from running for office is being spearheaded by the NPP's parliamentary caucus which says the move will bring the party's constitution in conformity with the 1992 Constitution which bars dual citizens from occupying any public office.

However, in a press statement released by NPP-USA, the Diaspora-based members said the move was "inconceivable" and an "albatross" and accused "hawks" within the party of "hijacking" the extraordinary conference.

Already there are moves to amend the national constitution to make it possible for dual citizens to stand for public office.

A bill to that effect has been submitted to parliament to amend Articles 94(2)(a) and 8(2) of the Constitution as well as Section 16 of the Citizenship Act.
"We know the president is in support of an Amendment Bill proposed by Dr Kwaku Asare and his team. We have submitted same to the Speaker, Deputy Speaker, Majority Leader, Attorney General and the minority in parliament.

"This Bill does not cost this country anything and we see no reason why it should be held for this long without passage," the group said in a statement.