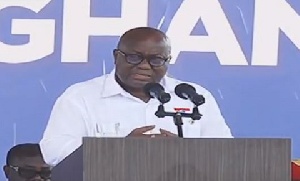 President Nana Akufo-Addo has stated that former President John Dramani Mahama and the National Democratic Congress (NDC) left Ghana in a "deep hole".
According to him, the New Patriotic Party (NPP) government has been left with no choice than to institute effective measures that will turn the fortunes of the country around.

"Digging us out of the hole, the deep hole the Mahama government plunged our country into was never going to be easy but we have to do it," Mr Akufo-Addo said on Saturday 7 July 2018 during his speech at the National Delegates Conference of the party at Koforidua.

According to him, "we have to be disciplined in the management of our public finances otherwise expectation for a better tomorrow will remain just that, as aspirations".

Mr Akufo-Addo noted that the policies of government have ensured a macroeconomic stability which has resulted in positive reviews by international organisations including the International Monetary Fund (IMF), which has forecasted.

He said the prospect for development is positive and government is making every effort to develop the economy.


He stated that government has reviewed the debt restructure of the country to provide greater fiscal space for the implementation of transformational policies.

He said "the economy will be stronger than the one we inherited" by the end of the IMF programme which government intends to complete this year.

He said the economic management team is working hard and he is aware that "things are not easy but if we stay true to the path we are charting we will see very soon the light at the end of the tunnel".