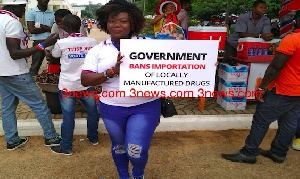 The New Patriotic Party in an attempt to tout the achievements of the Akufo-Addo government has rather caused a blunder that is set to give fans of social media the opportunity to troll the party.
At the parties 25th annual delegates conference in Cape Coast Saturday, some young ladies of the party carried specially designed placards with each touting an achievement of the government.

One placard, however, stood out of the lots with a message that confuses anyone who reads it due to the apparent inconsistent wording.

In trying to say government bans the importation of medicines in reference to the announcement made by the Health Minister in an Executive Instrument gazetted on May 10, 2017, the author wrote: "Government bans IMPORTATION of LOCALLY manufactured drugs".

Oblivious of the apparent blunder, the bearer of the placard, a young lady, gleefully posed for our photographer, Kelvin Carrey, to capture the interesting message on the placard.