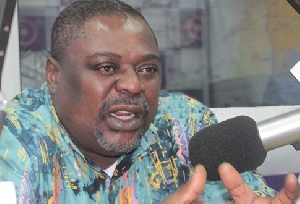 A deputy General Secretary of the governing National Democratic Congress (NDC), Koku Anyidoho, has called Prof. Aaron Michael Oquaye a joke over his calls for the arrest of Johnson Asiedu Nketiah, the Chief Scribe of the umbrella family.
The Political Scientist on Friday, January 8, 2016, called for the immediate arrest of Mr. Nketia, aka, General Mosquito, over his contemptuous comments about the Supreme Court.

Mr. Nketia had earlier also called for the arrest of Dr. Mahamudu Bawumia, Vice-Presidential Candidate of the NPP for allegedly presenting falsified documents to the Electoral Commission (EC) to deceive them.

His call was against the backdrop of the EC's decision to boycott the calls for a new voters' register by some political parties, especially the NPP and civil society organizations.

According to Mr. Nketiah, the EC's preliminary report on calls for a new voters' register suggests that the NPP Vice-Presidential candidate peddled falsehood that had the potential to destabilize the country, hence the need to arrest him for questioning.

He said Dr. Bawumia had the audacity to present the falsified documents to the EC because the Supreme Court left him off the hook having done same during the Election Petition trial in 2013.

But Prof. Oquaye commenting on the issue said the report by the EC and calls for the arrest of Dr. Bawumia lacked merit.
He instead wants Mr. Nketiah arrested for bringing the image of the Supreme Court into disrepute.

"Asiedu Nketia's comments bring the Supreme Court into disrepute and for that matter must be charged with contempt because he is putting words into the mouth of the Supreme Court and then hanging the Supreme Court over something that did not happen," the legal luminary said on Accra-based Okay FM on Monday.

He said the EC could have also done better with its investigations into the claims made by the NPP if it had sought the assistance of Interpol to use their advanced forensic equipment to authenticate the documents submitted to the electoral body.

But Koku Anyidoho in a swift response on the same network described Prof. Oquaye a joke, telling the host that he now understands why the former Ambassador to India earned the nickname "Papa Ajasco."

"The issue of clinging on to Interpol is making Prof. Oquaye look very comical. That Interpol should stop their work and because of the lies told by Dr. Bawumia, they should go and examine Togo and Ghana voters' register. Why is Prof. Mike Oquaye doing this to himself? Interpol has got more important things to look at."

"He has embarrassed himself this morning. If you look at the illogical argument advanced by Prof. Mike Oquaye and you want to juxtapose it to what he had said about Asiedu Nketiah, I won't be surprised if Prof. Oquaye doesn't know what he is talking about. He doesn't know what he is talking about", he noted.