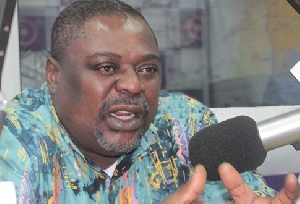 Sun, 1 Nov 2015 Source: peacefmonline
Deputy General Secretary of the ruling National Democratic Congress (NDC), Koku Anyidoho in his assessment of the Electoral Commission's public forum on the current register has urged all stakeholders to tread cautiously in dealing with the flaws in the register.
The Deputy Chief Scribe who admitted 'there are one or two hiccups in the voters register posited they are not enough to call for a new register as the opposition New Patriotic Party (NPP) has taken an entrenched position on.

Speaking on Okay Fm's 'Ade Akye Abia' Morning Show, Koku Anyidoho said the public forum on the current voters register has buried the demand of the opposition NPP as all the civil society groups and the opinions that were put out in the presentation said cautious adjudication is the way forward in addressing the flaws in the register.

He ascribed that the NPP were embarrassed at the public forum as everything said by the opposition was propaganda; stressing "it is one thing sitting in a chop bar, under a tree or in NPP's headquarters to tickle yourselves that you have a case in the voters register".
"The consensus is that, let's tread cautiously and let's not be reckless about this whole thing; that is the point the NDC has always made that let's tread cautiously on this matter. This register we have is credible; you may have, yes! One or two hiccups but these hiccups don't demand for a new compilation of voters register that the NPP is demanding and claiming their position is non-negotiable," he stressed.

He asserted that the entrenched position taken by the NPP got the former National Chairman of the NPP, Mr. Peter Mac Manu, being hooted at during his presentation, threatening there will be consequences if the register is not compiled afresh for the 2016 elections.

He therefore assured that there will be no such threat materializing in the 2016 elections, as the elections will be held and the results declared without a fly being hurt in the country.
Source: peacefmonline