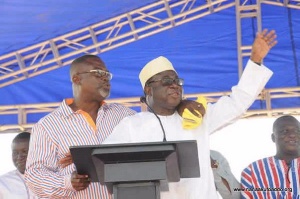 Acting Chairman of the New Patriotic Party, Freddie Blay has warned members of the governing party against any omission or commission that would derail the NPP's ambition of staying in power for at least six decades.
Addressing thousands of delegates and supporters of the NPP at the 26th annual delegates' conference in Koforidua, Saturday, he called on party functionaries to remain united and focused on that cause.

"The President keeps on telling us that we want to stay in power, not for just eight years, but for more than 60 years," he reminded the gathering.

Mr. Blay remarked that although the NPP government is "on top of the problems facing this country", many needs to be done.

"We have chalked a number of very remarkable successes, but we cannot boast that we are completely out of the wood, that is why we need to be united, we need to be stable, we need to work together our focus as a party behind Nana Addo Dankwa Akufo-Addo's government, so that he continue to deliver the promises based on our manifesto, as we told Ghanaians."

Taking note of the turbulence the NPP went through to win power in 2016 and the task ahead of it, the Acting Chairman who is contesting two others for the chairmanship slot called the status quo an "exciting and challenging moment of the party".

The 2018 Conference taking place at the Koforidua Technical University is themed: 'Building a Stronger Party, Delivering Prosperity to Ghanaians'.
Mr. Freddie Blay acknowledged that building a stronger party would entail a lot of work from all and sundry.

He also touched on the fact that some of the party supporters at the grassroots are disgruntled.

He said after going rounds, he, together with other leaders of the party, realised that there were "little grumblings, a few issues on the ground which constituted pain in the hearts of many of our members who have gathered here".