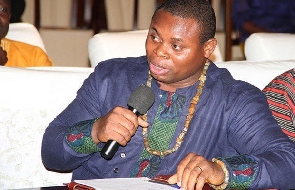 Franklin Cudjoe, the President and Founder of IMANI Africa, has added his voice to the illegal arrest by the Ghana Police Service of demonstrators under the banner of #OccupyJulorbiHouse.
He asserted that the government had little to lose by allowing citizens to express their grievances on the streets.

Cudjoe expressed his concerns in a Twitter post on September 21, 2023, stating, "What do we lose if we allow peaceful demonstration in this broke economy? We should be grateful that these demonstrators are civil with all the chaos our lives have become due to legendary misgovernance."

Background

On Day 1 (September 21) of the #OccupyJulorbiHouse protests by the Democracy Hub, a group of young activists; police illegally rounded up 49 protesters who were marching to demand action on prevailing economic crisis and corruption.

The illegal arrests, especially how they were conducted by the police triggered harsh criticism of impeding the constitutional right to protest and deploying highhandedness on the part of police.

Police sent the detainees to the regional headquarters before splitting them up to about eight police stations dotted across the capital, even as colleague protesters and lawyers worked to secure bail for the illegally detained persons.
In this process, other journalists and protesters who massed up, especially at the Accra Regional Command encountered some amount of police violence including shoving, forced detention, seizure of phones, and in the case of other physical assault.

In their first of two statements on the day, police said the illegal arrests were justified because protesters were defying a court injunction served on them, which process they denied had been properly served.

The second statement addressed the purported arrest of a BBC journalist and his cameraman, which reportage they dismissed as untrue.

By the close of the day, almost all illegally detained protesters per GhanaWeb checks had been released from illegal detention on bail, it remains to be seen whether Day Two of the three-day protest targeting the seat of government, the Jubilee House, will come off today (September 22, 2023).


September 21, 2023
September 21, 2023
AM/SARA

Click here to start the nomination process for the 2023 GhanaWeb Excellence Awards

Ghana's leading digital news platform, GhanaWeb, in conjunction with the Korle-Bu Teaching Hospital, is embarking on an aggressive campaign which is geared towards ensuring that parliament passes comprehensive legislation to guide organ harvesting, organ donation, and organ transplantation in the country.

You can also watch this episode of People & Places on GhanaWeb TV: