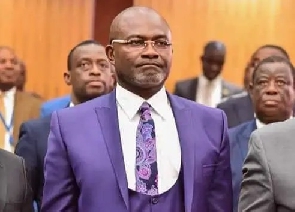 Assin Central Member of Parliament Kennedy Agyapong has declared 'war' on the Ghana Revenue Authority (GRA).
The outspoken lawmaker has alleged that the GRA is witch-hunting him with respect to two of his major businesses. A steel plant project he is building and his cold store business.

He said during an interview on Sompa FM in Kumasi that: "Ghana Revenue Authority can never collapse my business because I will fight. I will fight for the youth because that steel plant alone will take 1000 workers.

"And you are going there because Kwame Agyapong is loudmouthed, because he wants to contest so you will destroy my business," he stressed.
He said earlier that the GRA wanted to put a personnel at his cold chain stores to police how much fish he sells daily before warning: "Let me say this, I have gone past intimidation.

"They cannot use the system to intimidate me. It so ad I have to say this, I have opened businesses across the last five presidents, I never went through any of this harassment."