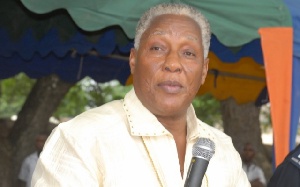 Former Sports Minister E.T Mensah says incoming Sports Minister Isaac Asiamah requires a high level of tactfulness and patience to survive at the ministry.
The spokesperson of President Nana Akufo Addo, Mustapha Hamid revealed that Isaac Asiamah has not only been appointed to oversee the Black Stars 2017 Africa Cup of Nations campaign in Gabon but the Member of Parliament of Atwima Mponua constituency will soon be handed the mandate of replacing Nii Lante Vanderpuije at the Sports Ministry.

ET Mensah, who served as Sports Minister between 1993 and 2000, has promised to support Isaac Asiamah to deliver as the next Sports Minister despite his absence from parliament.
"Asiamah is my son in parliament and I predicted he will become the next Minister. We will assist him [Asiamah] to succeed and if he does Ghana becomes the victor," he told Starr Sports.