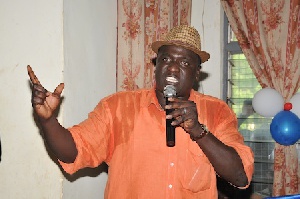 Sun, 25 Oct 2015 Source: peacefmonline
Anthony Karbo has called on Northerners and Ewes in the country to condemn comments by the Deputy General Secretary of the ruling National Democratic Congress (NDC), Koku Anyidoho regarding the New Patriotic Party's petition for a new voters' register.
The New Patriotic Party (NPP) held a press conference and laid down reasons why they want the current register to be changed in order to have credible 2016 general elections.

According to the leadership of the NPP, the current register has been bloated with names of minors and Togolese nationals.

By virtue of the party's findings, the NPP believes the current register cannot be relied upon for a smooth and transparent election.

Following the NPP's press conference, the NDC Deputy Chief Scribe Koku Anyidoho described the opposition party's findings as "disingenuous".

He labeled the NPP as "anti-Ewes and anti-Volta Region".
Addressing the issue, Anthony Karbo held strongly that Koku Anyidoho's comments offend the sensibilities of Ewes and the people of Volta Region.

To him, the comments smack of tribalism and so should be utterly condemned by the parties involved.

"Every sound thinking Northerner must feel insulted by that statement…Any sound Ewe, who is a patriotic Ghanaian, must feel insulted by whoever made that comment.

"It is only people who have nothing to offer you" who will make such comments. "They will come to blackmail you because we all know that tribalism is an emotional issue. It is not a rational matter and people are playing to it…And I was so surprised that it came from my good friend Koku Anyidoho," he said.
Source: peacefmonline