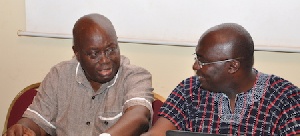 The National Reforms Party has launched a scathing attack on the New Patriotic Party (NPP), describing its call for a new voters' register as "mischief" aimed at creating chaos.
The main opposition NPP has been the lead political group demanding a new voters' register at the ongoing public forum by the EC, alleging that the current register is bloated.

A panel put together by the EC to hear arguments of political parties and civil society groups is expected to make its final recommendations after the forum.

But a leading member of the NRP, Dr. David Percy, said succumbing to the demands of the NPP could be dangerous for Ghana's democracy.

Dr Percy said the NRP believes the current register is credible, adding the Electoral Commission is "robust" to deal with all challenges facing the electoral roll.
"We have managed to create a national crisis out of something that may be entirely a figment of somebody's imagination," Dr Percy told the Forum. "It cannot be the business of EC to address this kind of mischief."

He added: "If we don't address what I will call the 'elephant in the room' we'll come here and start addressing non-existent problems… We believe that the electoral system that we have now is robust and fully capable of addressing any problems that any parties may have, actual or imagined.

"It is time that we all took our collective heads out of the sand…"