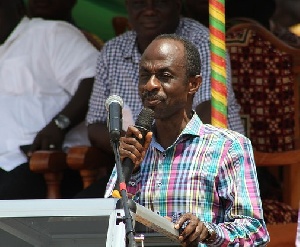 The General Secretary of the National Democratic Congress Johnson Asiedu Nketia has stated that pandering to the whims of the New Patriotic Party for a new voters' register would not lead to peace in Ghana.
The leadership of the NPP and pro-opposition group Let My Vote Count Alliance are calling for a new voters' register alleging that the current roll is bloated with minors and foreigners.

Some commentators of the NPP have also stated that failure by the Electoral Commission to change the voters' register ahead of the 2016 elections would be a recipe for disaster.

But speaking at the stakeholders' forum on the voters' register Thursday, Mr. Nketia popularly known as General Mosquito said kowtowing to the demands of the opposition party would not necessarily guarantee peace after the 2016 elections.

"And who said pandering to the whims of the NPP would lead to peace after 2016 elections," he asked.
Making his presentation, General Mosquito said groups and political parties calling for a new voters' register must use the Inter-Party Advisory Committee as the forum to deal with concerns about bloated voter's register.

Mr. Nketia also stated that NDC's position is that "the current biometric register must be maintained and tradition and conventions of cleaning up the register employed to ensure that the register is credible".

Mr. Nketia also called for the Electoral Commission to have powers to prosecute electoral offenders adding that the current practice of leaving it to the Attorney General is not feasible.

He added that government will not prosecute a party member whose activities have helped the party win elections even if the means used are unfair.