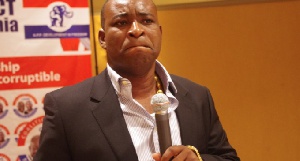 The Ashanti Regional Chairman of the New Patriotic Party (NPP), Bernard Antwi Boasiako, aka Wontumi, says he will not allow any official of Nana Akufo-Addo's government to display arrogance.
He stated emphatically that the NPP as a political party has been voted into government to serve the people of Ghana, and not to lord over them.

According to him, the NPP convincingly won the December 7 elections because the electorate know that Nana Akufo-Addo is not an arrogant person.

In this regard, Wontumi stated that he would personally resist any appointee of the NPP administration that would dare display arrogance to dent the positive image of the NPP and that of Nana Akufo-Addo.

Speaking in an interview with DAILY GUIDE, the Ashanti regional NPP chairman entreated all NPP members to be humble and respectful to all manner of people who come on their way, now that the party is in government.
He mentioned that arrogance was one of the cardinal points that caused the embarrassing defeat of the National Democratic Congress in 2016, reiterating that "we shall not allow arrogance to bring the NPP down."

Using himself as an example, Wontumi said God has blessed him with a lot of wealth, including about hundreds of houses, yet he is still humble and respects people, urging the incoming NPP government officials to do same.

He reminded the incoming NPP government officials that their output would play crucial roles as to whether the NPP would retain political power in 2020 or not, so they should not lord over the people who voted the NPP into power.