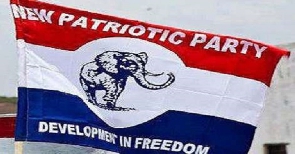 Tue, 12 May 2020 Source: Ntim Gyakari , Contributor
Dynamic societies don't depend on obsolete rules that have passed their times. Politics in the world keep changing and at a faster pace than normal which we all have to accept.
The old school of thoughts that NPP has never done it before so they should maintain the status quo. The new school of thought also have demonstrated that it is more richer, fair, transparent and a next practice which will be a record-breaker in Dome Kwabenya Constituency again!!!!!!

What are we talking about here!!!!

EXHIBITION & VERIFICATION BEFORE VOTING AT EVERY LEVEL OF ELECTIONS AND IN EVERY CONSTITUENCY IS WHAT WE DEMAND

We stand to deepen our democracy today and for the future, whenever the need to break a norm or practice which does not promote fairness arise, but rather which will bring agitations, speculations and doubts in the mindset of good thinking people.

The incoming Parliamentary Primaries Elections in NPP should be exercised or conducted with decorum and tact to ensure that all contestants are given a fair playing ground to easy tension; address the likely court injunctions; kill off the 'knocking apathy' and clear any awaiting skirt and browse voting trend; which will send the party back to opposition.
The Supporters and Delegates are saying they want exhibition of the Constituency Delegates Photo Album before voting and that they want it to be given out at least two weeks before the Elections of the Parliamentary Primaries.

It is time, and the time is now, to create a new calendar in NPP politics that will be flexible to accommodate any unanticipated happenings. Turbulence, be it man-made or act of God will continue to occupy the world space and for a fact it will only take proactive planners and God-fearing leaders 'who think and plan no evil' to survive.

NPP leadership is advised not to allow individual interested to cloud their sense of judgement and know that the party has its traditions and values which is rooted in the tenants of democracy.

God bless our party and our President Nana Addo Dankwa Akufo Addo.
Source: Ntim Gyakari , Contributor