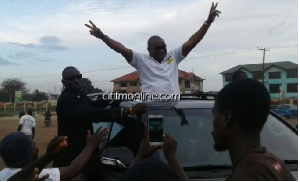 Supporters of the All People's Congress (APC) in Ashaiman failed to turn up in their numbers during the party's constituency campaign launch in the area.
The programme which was billed to start at 10:00am dragged on till 5:00pm.

Journalists assigned to cover the programme and police officials who were there to keep peace had overwhelmed the few APC supporters present at the time.

The same venue which was filled to capacity during the campaign launch of both the governing National Democratic Congress and the New Patriotic Party some days back was virtually empty during the constituency campaign launch of Dr Hassan Ayariga's APC.

Children as usual, were at their best well represented at the programme despite the late start.
Hassan Ayariga in the company of his Vice Presidential candidate and the parliamentary nominee for Ashaiman in an okada escort drove to the scene at about half past five.

Not even the presence of Hassan Ayariga could add an inch to the number of supporters gathered  at the place.

When Citi News spoke to some of the sympathisers who were spotted in party T-shirts at the constituency campaign launch, they confessed they were die hard members of the NDC and that they were only around to grace the occasion.

"We are members of the NDC but we are here to just add up to the numbers but not to give them our votes."