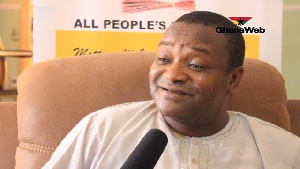 The General Secretary of the All People's Congress (APC), Razak Kojo Opoku has criticized Hassan Ayariga's suspension of him and the party's vice chairman, Emmanuel Carl Bartels.
According to him, Ayariga lacks the power to act the way he did.

Ayariga on Sunday in statement announced the suspension of Bartels and Opoku after they issued a statement on behalf of the party supporting the flagbearer of the New Patriotic Party (NPP), Nana Akufo-Addo.

"This endorsement has become necessary considering the high level of incompetence, corruption, mismanagement of the economy, high rate of unemployment, killer taxes, collapse of private sector business, high utility bills, nepotism , tribal politicking under the eight year rule of the NDC," said the statement.

"Enough is enough and the trending song is the change of the incompetent Mahama presidency. We strongly believe that only the Nana Akufo-Addo can offer a more credible, incorruptible and transformational leadership than all the other presidential candidates contesting the December elections," it added.

But in another statement, Ayariga said the two executives violated the party's regulation and that with immediate effect in accordance with the constitution they were suspended.
"Dr. Hassan Ayariga and the National Executive Committee wish to inform all APC members nationwide and the general public to refrain from dealing with these two suspended individuals with matters concerning the party till further notice," the statement said.

Speaking, however, on Monday in an interview with Accra based Class FM, Opoku rubbished their suspension, challenging Ayariga's claim of being the founder and flagbearer of the party.

"He [Ayariga] can't tell me that the party structures is not working," he said adding "if you are the founder of the party...go to the political parties law 2000 act 574…read section 9 and section 14,15 of the law. Where does it say that we have the founder of the party?"

He continued that "we need 260 district founder members, ten National Executive Committee members, three principal officers to form a party in accordance with political parties' law. And the certificate the electoral commission will give you, they don't put the name of the founder of the party there and the signature on it is the signature of the deputy chairman of the party."

According to him, he was not surprised by Ayariga's conduct because "he [Ayariga] thinks that APC is Halo Pizza; he thinks that APC is All Ayariga's Property, he thinks that APC is his wife, so he can 'hire and fire', he can marry and divorce."