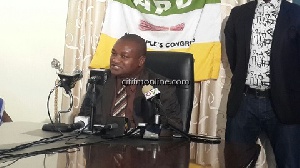 All elected executives of the All People's Congress (APC) at the constituency, regional and national levels, have been stripped of their positions.
Leadership of the party announced Friday that it has dissolved all elected positions in the party, the Ghana News Agency reported.

"All executive members are now acting leaders with the exception of the General Secretary and the Leader/Founder of the party," Mr. Hassan Ayariga announced at a news conference.

He said the APC has notified the Electoral Commission to that effect and that members of the party who are interested in managing the affairs of the party are welcome to begin campaigning for available positions.

He said the APC was formed in an election year, hence the party members did not keenly contest many positions.

Mr Ayariga said the APC believes in liberal principles adding that "the APC is the only party that anyone from any party will find principles he supports and I call on people from the various political parties to join us reorganize the APC."
He said a committee has been established to embark on a nationwide tour from November 15, 2017, to all constituencies to organize polling station executives and activate party activities across the country.

It shall also issue party membership cards to new and old members as well as capture detailed information of every member in the party's database.

"Other committees such as the new Council of Elders, Youth Wing, Women Executive Wing and Zongo Wing would be formed during the tour."

The Leader/Founder said the committees would prepare the grounds for the election of constituency and regional executives, "the leadership has declared 2018 as the year for the national delegates' congress where national executives as well as Presidential Candidate would be elected".

"The polling station, constituency, regional and national executives at all levels are encouraged to support in the effort to ensure the success of this important mission," he said.