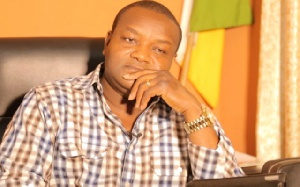 The suspended General Secretary of the All People's Congress Razak Opoku has disclosed that his party stole the 2016 manifesto of the opposition New Patriotic Party.
This was revealed on 3FM's Sunrise morning show hosted by Winston Amoah on Monday. He was reacting to obvious rift in the party as two executives declared their support for the opposition NPP, while the flag bearer is set to endorse the candidature of the governing NDC's John Dramani Mahama.

Allegations

Razak Opoku who insists the APC manifesto was stolen from the NPP asked Winston to challenge Dr. Hassan Ayariga to deny his claims.

"Ask him how come the party manifesto that all of us decided to launch; in fact I wrote 90% of the manifesto and he wrote about 10% but on the day of the launch the manifesto was a different manifesto, it was the manifesto of the NPP ask him that.

"I can give you a copy of the exact copy of the exact manifesto that the APC was to launch. The manifesto that we launched on the Aviation Social Center is the manifesto of the New Patriotic Party. I dare you to ask him how come he was able to get that. Who stole the manifesto of the NPP for him and subsequently claim ownership to it?
Asked who leaked the NPP manifesto, Razak Opoku declined to provide answer only to insist that the host get that information from Hassan Ayariga.

When contacted for his side of the story, Dr. Hassan Ayariga was emphatic he would not respond to a sycophant.

"If you put a sycophant in your studio and want me to respond to, I will not respond".

Earlier, Razack Opoku had laughed his disappointed presidential hopeful, Dr. Hasan Ayariga, scorning his suspension by the leader.

"Who said I have been suspended?" he asked "I thank you very much that you did not say the national disciplinary committee has made recommendations to national executive committee but rather Hassan Ayariga who thinks that running a political party is like running a pizza business, whereby somebody can just work and say I have dismissed you. Political party is not a sole proprietorship."
Breach of Constitution

Quoting sections of their constitution, Razak Opoku maintained that all the grievance and disciplinary procedures have been breached.

"Chapter 4, page 11 of our constitution clearly spells out what the processes are. Article 14 which stipulates all the disciplinary and grievance procedures by the National Executive Committee and in dealing with allegations brought against a member has been breached."