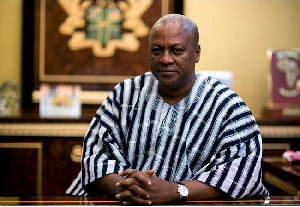 The dismissed General Secretary of the All People's Congress (APC), Mr Razak Opoku, has revealed that President John Mahama is the financier of the party.
Speaking about his dismissal by his party's founder, leader and flag bearer Hassan Ayariga, for endorsing opposition NPP flag bearer Nana Akufo-Addo rather than Mr Ayariga's preferred candidate who happens to be Mr Mahama, Mr Opoku said Mr Ayariga must rise above intellectual bankruptcy in his politics.

"He [Ayariga] doesn't have to show to Ghanaians that he is intellectually bankrupt because political parties are not sole proprietorships where somebody will wake up one morning and take a decision for all members.

"You [Ayariga] say the decision that majority of the party members have taken are against the party's financier John Mahama, and, so, once you have done something against my party's financier, John Mahama, I have suspended you.
"Majority of the party's supporters have accepted that Nana Akufo-Addo is more credible, more competent, and incorruptible, who can help the country develop more than we are seeing now. He is someone who can provide jobs for the teeming youth of this country," Mr Opoku said on Space FM on Monday, 28 November.

Aside from Mr Opoku, Mr Ayariga also announced on Sunday that he had dismissed his running mate Emmanuel Carl Bartels because the two chose not to endorse APC's financier.