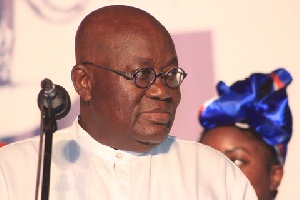 The government of President Nana Akufo-Addo intends creating four new regions in addition to the existing 10 during his tenure of office.
Mr Akufo-Addo, who said he is "satisfied" with the need for the additional regions, said, by law, "a minimum of 50%" of those to be affected by the decision to create one, must "come out to vote and 80% of the 50% must approve the demand for the creation of the region."

"We are talking about a major exercise of political mobilisation to be able to create a region; it's not by the wave of the pen of the president, it may have been in the days gone by [but] now you have to go through this stringent popular consultation," Mr Akufo-Addo said at the presidency on Wednesday, 11 January as he announced 12 more ministerial nominees including Okere MP, Dan Botwe, as Minister-designate for Regional Reorganisation and Development, who, he said, will lead the process in creating the new regions.

Mr Akufo-Addo said there were "potential political obstacles" that will be met in creating the Western-North Region out of the Western Region; Ahafo Region out of the Brong Ahafo Region; Oti Region out of the Volta Region; and the Eastern Corridor Region out of the Northern Region, for which reason his government needed a "heavy-hitter" and "a major political figure within ourselves who has extensive experience in mass mobilisation" such as Mr Botwe to lead that process.

Mr Akufo-Addo said the needed political mobilisation for the creation of the new regions would have been done by August 2018.

Apart from Mr Botwe, the 11 other nominees announced by the president on Wednesday include:

Dr Anthony Akoto Osei – Monitoring and Evaluation
Prof Kwabena Frimpong Boateng – Science, Environment, Technology and Innovation

Otiko Djaba – Gender, Children and Social Protection

Joe Ghartey – Railway Development

John Peter Amewu – Lands and Natural Resources

Samuel Atta Akyea – Works and Housing

Kofi Adda – Sanitation and Water Resources
Ignatius Baffour-Awuah – Employment and Labour Relations

Kweku Ofori Asiamah – Transport

Kwesi Amoako-Atta – Roads and Highways

Ursula Owusu-Ekuful – Communications

This brings to 25 the number of ministerial nominees made by President Akufo-Addo.