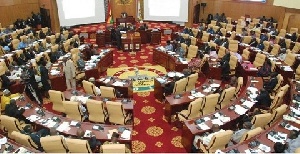 Members of Parliament (MPs) have called for the decriminalization of the offence of attempted suicide because it does not help to punish somebody who decides to end his own life.
The MPs argue that individuals who attempt to commit suicide should rather be helped medically and also assisted with counseling instead of putting them before court and sending them to prison.

The MPs made the call when they contributed to a statement made in parliament on Thursday by the New Patriotic Party (NPP) Member for Oforikrom, Dr Emmanuel Marfo, on the recent surge in suicide cases among the youth, especially students, on school campuses.

The MPs, including National Democratic Congress (NDC) Member for Adaklu, Kwame Governs Agbodza; MP for Daffiama/Bussie/Issa, Dr Sebestian Sandaare; MP for Ablekuma West, Ursula Owusu Ekuful; MP for Bunkpurugu, Solomon Boar and MP for Effutu, Alex Afenyo-Markin, also appealed to the government to see it as a matter of urgency to properly equip and increase the funding for the running of the various psychiatric hospitals.

They contended that psychiatric services must easily be accessible to most Ghanaians, especially students in second cycle and third cycle institutions, to forestall the incidence of one resorting to suicide as a result of depression arising from problems he or she is going through.

Dr Sandaare, who is a medical doctor, said a World Health Organisation (WHO) research had shown that over 90% of suicide cases are a result of victims going through some mental challenges and that it is mentally factual that every human being can be in a normal mental stage or abnormal mental stage depending on the situation he or she finds himself or herself.
He said the economic cost of suicide is much greater than spending resources to prevent such incidents.

The MP for Ablekuma West and Minister of Communications, Ms Ursula Owusu Ekuful, said it is time more emphasis was put on counseling in the second and third cycle institutions to help students.

She said services of clinical psychologists and therapists must be sought for students in the secondary and tertiary institutions, stressing that "people must not only attach importance to their physical health but also their mental health."

Mr Alex Afenyo-Markin said most of the suicide cases on campuses could be attributed to academic work and strained relationship between students and lecturers since most lecturers have turned themselves into 'thin gods.'

He said that when most students perform badly in their exams vis a vis the high expectations of their parents, they resort to ending their lives.
According to the Effutu MP, lecturers have made things worse because when students fail their exams, they (students) dare not ask why they have failed, especially when the student in question believes he has done his best in the exams.

He said lecturers must also take interest in whatever students do in and out of the classrooms because they are under their care on the campuses.

Dr Emmanuel Marfo suggested that all students who gain admission into tertiary institutions must be taken through compulsory health screening before being admitted.