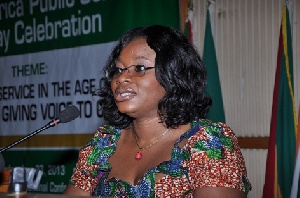 The chairperson of the Electoral Commission Charlotte Osei has backed the surgical method proposed by the Institute of Democratic Governance (IDEG) to audit the alleged bloated voters' register.
The chairman of IDEG, Dr. Emmanuel Akwetey, on Thursday, said a drastic "surgical" approach is needed to cleanse an already infested voters' register.

Making a presentation at the stakeholders' forum on the voters' register at the Alisa Hotel Friday, Mrs. Osei said she is in support of IDEG's proposal in cleansing the register.

She also stated that allegations of minors cannot actually be proven, adding that minors are lured by political parties to register.

According to her, if some dishonest parents who allow their children to register are prosecuted, it would deter others from engaging in such acts.

She also dismissed allegations of foreigners on Ghana's voters' register, saying people should avoid using emotive definition of citizenship and focus on the constitutional definition of citizenship.
"We cannot use an emotive definition and say this one is a Ghanaian and this one is not a Ghanaian".

Mrs. Osei also stated majority of Ghanaians have a high incentive of being on the voters' register because the voters' ID card is more like a de facto ID card used to authenticate one's nationality status.

The EC boss also outlined several issues such as; Timelines, Social stability, cost, lack of a proper identification system and things that must be done differently to prevent a carry-over of the current problems in the voters' register.

The former boss of the National Commission for Civic Education added that there can never be a perfect system but said the EC is committed in ensuring that Ghana has a credible voters' register.

She has called on the various political parties to contribute their quota to enable Ghana arrive at having a credible voters' register ahead of next year's election.