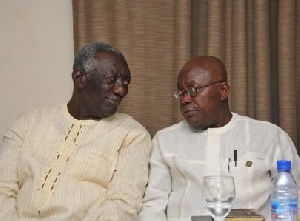 Suspicions that the Kufuor faction in the main opposition New Patriotic Party (NPP) may be sabotaging flagbearer Nana Akufo-Addo's presidential ambition through the actions and inactions of suspended Chairman Paul Afoko may not be far-fetched, pollster Ben Ephson has told Fiifi Banson in an interview on Kasapa 102.3 FM's morning show, Anopa Kasapa, on Wednesday, November 4.
The current rumpus in Ghana's biggest opposition party, according to Mr Ephson, could have been avoided if Mr Afoko – a perceived pro-Kufuor stalwart – had collaborated with the three-time flagbearer, as well as other party leaders who are perceived to be pro-Akufo-Addo.

Mr Ephson wondered why, for example, Mr Afoko planned certain activities in the Ashanti Region without the knowledge of regional Chairman Bernard Antwi Boasiako, a situation, which, coupled with several other instances of action and inaction, may have fuelled suspicions that he was up to no good.

"So if someone says Afoko – Kufuor's faction – wants Nana Addo to lose, it will not be far-fetched," Mr Ephson said.

"Because you do remember that from the April 2014 elections [in Tamale], Afoko, Kwabena Agyepong and Sammy Crabbe were perceived to be pro-Kufuor…," he added.

Former President John Kufuor was not among party leaders who attended a series of meetings (which Mr Afoko has described as "illegal") at the NPP's Asylum Down headquarters on Tuesday, November 3.
Three separate meetings of the National Executive Committee (NEC), Steering Committee and National Council were held back-to-back that day. They were convened by first Vice-Chairman Freddie Blay, who has been acting following Mr Afoko's indefinite suspension.

Per the NPP's constitution, past presidents, as well as presidential candidates and running mates are members of the National Executive Committee (NEC), and thus entitled to be at any meeting of the Committee convened by the chairman.

Mr Akufo-Addo and his running mate Dr Mahamudu Bawumia attended Tuesday's meeting.

Apart from Mr Kufuor and Mr Afoko who were absent, General Secretary Kwabena Agyepong and second Vice-Chairman Sammy Crabbe were also not there.

Mr Afoko, Mr Agyepong and Mr Crabbe have always been tagged as pro-Kufuor elements within the party, who are sabotaging the presidential ambition of Mr Akufo-Addo. Mr Afoko's recent suspension is suspected to be a consequence of the mistrust.