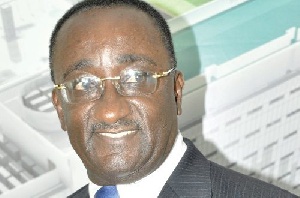 Food Sovereignty Ghana (FSG) is kicking against the appointment of Dr. Owusu Afriyie Akoto as the Minister-designate for Agriculture. President Nana Addo Dankwa Akufo-Addo made the appointment of Dr. Afriyie Akoto known when some delegation of Zongo Chiefs paid him a courtesy call some few days ago.
However, Food Sovereignty Ghana says Dr. Akoto's position on Genetically Modified Organism (GMO) does not qualify him to head the office as Minister of Agriculture. Dr. Akoto speaking on TV3's New Day, in 2014, said he finds the debate over GMOs hypocritical.

"Ghana imports 150 thousand metric tons of poultry products every year and most of that are coming from America, Brazil and Europe. "Where do you think those chickens are fed from? They are fed from genetically modified grains. So, we are eating genetically modified food. Has anybody died?" he asked.
But acting General Secretary of Food Sovereignty Ghana, Evans Tawiah says "we have nothing against him [Dr. Afriyie Akoto]. What we are saying is that we find his position on genetically modified food as strange. Food Sovereignty Ghana cannot trust Dr. Akoto to man our agricultural sector.

"GMO is something that the scientific community all over the world has not come to consensus about its safety on humans and the environment."