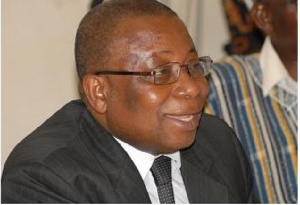 Minister-designate for Health Kwaku Agyemang-Manu has said he will bring his finance background to bear on the ailing National Health Insurance Scheme (NHIS) and help fix it.
According to him, while serving as Deputy Minister of Finance in the Kufuor administration, he worked extensively with the Parliamentary Select Committee on Health and Finance on the Act that established the NHIS and subsequently became the acting Chief Executive Officer of the NHIS, hence he has what it takes to deal with the challenges confronting the scheme.

Mr Agyemang-Manu was announced as the Health Minister-designate by President Nana Addo Dankwa Akufo-Addo on Tuesday 10 January at the seat of government in Accra.

The president also announced 12 others as Ministers-designate for various ministries to be vetted by the Appointments Committee of parliament.
Speaking in an interview with Chief Jerry Forson, host of Ghana Yensom, on Accra100.5FM on Wednesday 11 January on his appointment, Mr Agyemang-Manu said: "I have the energy and strength to carry out my new assignment. God has blessed me with the right knowledge to be able to fulfil the mandate given me by the president. I have the commitment to serve the president and the nation to ensure that the promises that we made to Ghanaians are fulfilled."

He added: "One thing that is dear to Nana Addo is the National Health Insurance Scheme. I have worked in the health insurance scheme before. As Deputy Minister of Finance in the Kufuor administration, I toured the entire country during the nationwide consultation on the Act that was going to be used in establishing the scheme. During that period, I gathered a lot of experience on the scheme.

"I also acted as Chief Executive Officer of the National Health Insurance [Authority] and so I know much about it. I am optimistic that I will deliver on the mandate given me by the president."