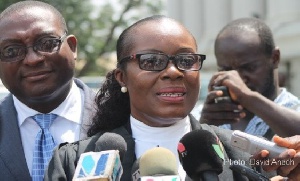 Attorney General and Minister of Justice-designate, Gloria Akuffo, has disclosed she has two children but has always been single.
The lawyer was named by President Nana Addo Dankwa Akufo-Addo on Tuesday, 10 January to become his legal advisor.

Introducing herself to the Appointments Committee when she appeared before it on Saturday, 21 January for vetting, she said: "I have two children, never been married."

Mr Akufo-Addo, unveiling Gloria Akuffo for the ministerial role, described her as having "a very strong ethical approach to issues of law and social responsibility and I think these are qualities that an Attorney General should have and I believe strongly that she is going to make a very fine Attorney General for Ghana".

She is a product of Aburi Girls' Senior School, where she did her O' and A' levels.

She entered the University of Ghana and read combined honours in law and political science. She entered the Ghana School of Law and graduated as a lawyer in 1982.
From 2001 to 2005, she was the Deputy Minister of Justice and Deputy Attorney General.

In 2005, Gloria Akuffo was appointed the Deputy Minister of the Greater Accra Region and Minister of Aviation in 2008.

She was a member of the legal team of the New Patriotic Party (NPP) in the 2012 Election Petition case in 2013.

Ms Akuffo has served on a number of committees and boards.