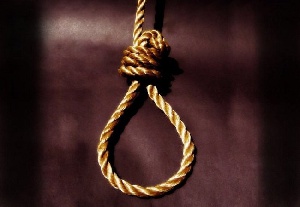 Residents of Owureku near Nsawam are yet to come to terms with the circumstances that led a 33-year-old truck pusher to commit suicide by slashing his throat with a machete in the middle of the street.
The deceased, Jacob Laser, according to information, took a machete from a coconut seller to commit the act.

Witnesses said, in the full glare of traders and passersby, the victim slashed his throat and arm and bled to death.

Witnesses claimed they were afraid to go to his rescue after he allegedly warned to butcher any person who tried to stop him.

The Nsawam District Crime Officer, ASP Kofi Sarkodie Addo, when contacted said the incident occurred around 1 pm Sunday afternoon.

When the police got to the scene, Jacob Laser was lying in a pool of blood, dead, with multiple cuts on his body.

The deceased's brother, Samuel Quaye Doku, told the police that his brother slashed himself with the machete.
Doku said Laser went to the coconut seller, who is a friend and was selling along the street, to lend him the machete to cut a rope.

After the coconut seller handed over the machete to Laser, he walked a few meters forward, stood in the middle of the road and slashed his throat.

"We wanted to move closer to stop him but my brother warned to butcher anybody who tried to stop him."

"While we watch, Laser ended his life," Doku narrated.

ASP Sarkodie said the body had been sent to the police hospital for preservation and autopsy while investigations continue.

He added that the police are yet to establish if Laser had any mental problem which the family is not aware of.