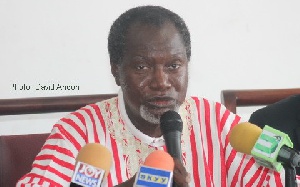 The Progressive People's Party (PPP) says it is surprised at the mute religious bodies in the country have kept in the face of what it describes as the unfair treatment being meted out to it by the Electoral Commission (EC).
The EC and the PPP are currently locked up in a legal tussle and are set for a showdown at the Supreme Court today.

The electoral body is at the apex court in an attempt to overturn an Accra high court ruling quashing its (EC's) disqualification of Dr. Papa Kwesi Nduom – standard bearer of the PPP – from contesting in the December presidential election.

The court held that the EC must allow Dr. Nduom to correct the mistakes on his nomination papers and submit same.

However, Nii Allotey Brew-Hammond, National Chairman of the PPP, at a well-attended press conference in Accra yesterday, told journalists that he was unsure of the existence of religious bodies in the country.

He queried, "Where is the Christian Council of Ghana, the Catholic Bishops' Conference, the Pentecostal and Charismatic Council? Where are the Peace Council and the Chief Imam?"
Nii Allotey, quoting the British statesman Edmund Burke, stated that the church as an established institution, has the responsibility to serve as the conscience of society.

He noted that per the Surat Al-Maeda, Islam believers are also commanded to judge justly.

Unfair Umpire

Nii Allotey was emphatic that the posturing of Charlotte Osei, Chairperson of the EC, ahead of the December polls does not make her a "neutral referee."

"…The impact we have made, the support the party is gaining, the deep positive impact on the lives of many Ghanaians in all the districts undoubtedly see an obvious PPP-led victory in the coming 2016 elections," he claimed.
The PPP national chairperson continued, "Why are they afraid of the PPP and Dr. Papa Kwesi Nduom? Can the 7th December election be free and fair with such attitude of partiality? In any advanced democracy, there will be no election because of the actions of the EC which, is supposed to be a referee and not a player."

Nii Allotey questioned why anyone will be surprised when there are "coordinated attempts" to rig the elections.

Referring to the EC, he pointed out, "…The referees are not at the centre of attraction; instead, the focus is on the players and the game. Any good EC is like a referee that calls a fair game and does so in a way that does not produce a slanted playing field or favour one team over the other."

Nii Allotey accused the commission of deliberately delaying the elections for reasons best known to it (commission).