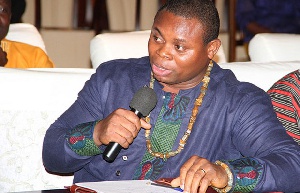 Thu, 12 Jan 2017 Source: GNA
IMANI Centre for Policy and Education has advised the new Government to spend within the national budget and crack the whip on ministers who engage in wasteful expenditures.
Mr Franklin Cudjoe, the Chief Executive Officer (CEO) of the policy think tank, who was speaking with the Ghana News Agency, on Wednesday, lauded President Nana Addo Dankwa Akufo-Addo for appointing personalities with deep expertise to serve as ministers.

He expressed the belief and confidence in Mr Ken Ofori-Atta, the Minister-designate for Finance Ministry, whom he said, had a solid track record in the private sector and he would, therefore, perform well to address Ghana's economic woes.

He described Mr Ofori-Atta as "a fine gentleman who has proven track record in the financial sector" and urged him to apply the same level of diligence and detail at the Ministry when approved by Parliament.

He said the Minister ought to first understand the dynamics and politics at the Ministry in order to synchronise it with the policies that the Government would roll out.

He challenged the Finance Minister-designate to critically examine the resources available and take decisions that would be in the best interest of the country.
Mr Cudjoe stated that the first step in stamping out corruption in the public sector should start with the President's Office by that office being transparent and accountable in the procurement of items for the Presidency.

"As to whether the President's Office is complying with the Local Content Law and whether the items being bought are produced locally, we need to know," he said.

The CEO also said the Government must come clear on the optimal level of taxes it intended to charge since it pledged to cut taxes in order to boost confidence of the business community.

He expressed optimism that the person that would be appointed to preside over Monitoring and Evaluation would be empowered to enforce the rules in order to cut down wastefulness in the public sector.

Dr Anthony Osei Akoto, a Former Minister of State at the Ministry of Finance, has been nominated to lead the efforts of Monitoring and Evaluation.
Mr. Cudjoe charged the Government to institute measures that would plug the loopholes in the public revenue management sphere to maximise revenue mobilisation drive.

He noted that though President Akufo-Addo had appointed relatively elderly and experienced persons to head the ministries, the President should consider blending the older folks with young ones.

"We must be reminded that being old does not necessarily make you smart, therefore, we must be cautious so that there will be a fair balance along the way between the old and the new," he added.

He dismissed reports that the role to be performed by the newly appointed Senior Minister would conflict with that of the Chief of Staff.
Source: GNA