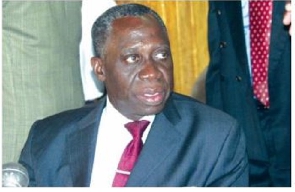 Wed, 11 Jan 2017 Source: starrfmonline
Professor Ransford Gyampo has criticized president Nana Akufo-Addo's re-introduction of the senior minister portfolio, arguing it is "unnecessary". The portfolio was first introduced by the erstwhile administration of the New Patriotic Party (NPP) led by former president John Kufuor. It was headed by J.H Mensah.
But the previous administrations of the National Democratic Congress (NDC) led by former presidents, John Evans Attah Mills and John Mahama scrapped it.

Announcing his first batch of ministerial appointment on Tuesday at the Jubilee House, Akufo-Addo nominated Yaw Osafo Marfo to head the re-introduced portfolio.

He is expected to supervise the activities of all other appointees of the Akufo-Addo administration – ensuring utmost discipline at all facets of the administration.

But speaking on Tuesday on Starr Today, Prof Gyampo said the designation is an amorphous one and that he finds it difficult to comprehend.

"I don't know whether he [Osafo Marfo] is also going to play the role of a chief of Staff," he wondered.


Prof. Ransford Gyampo

He continued: "I know all the ministers…have their activities coordinated by the Chief of Staff. But if you have a senior minister and then also you have an executive secretary to the president and you also have a chief of staff, it duplicates role and creates some confusion."

So, I think that one [senior Minister Portfolio] in my view is not necessary," he added.

That notwithstanding, he said he was impressed with Akufo-Addo's immersion of youth in his administration.

He said the "penchant for gerontocracy, the practice where we feel that there is wisdom only in old age will gradually give way for a kind of an arrangement that would ensure we mentor many young people that would be able to take over the reins of governance and leadership from the current crop of political leaders."

"…And so, I am excited about young people. I believe if the future belongs to the youth, then they should be prepared and develop for the future," he added.
Source: starrfmonline