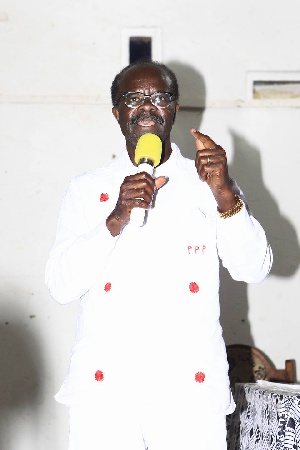 Presidential candidate of the Progressive People's Party Dr. Papa Kwesi Nduom is calling on Ghanaians to reject President John Dramani Mahama and the NDC government for failing to deliver on the promised 'Better Ghana Agenda'.
Speaking at a rally in Navrongo in the Upper East region, Dr. Nduom, said it is time for Ghanaians to make the necessary change to save the country from further turmoil, adding, the PPP was the only party capable of providing the needed change.

He decried the high level of poverty in several parts of the country blaming successive governments for ignoring the genuine needs of the citizenry.

"If you vote for someone for four years and he is unable to deliver, you retire him. If they give you money, take it and Insha Allah vote against them," he said.

Dr. Nduom added that all the three northern regions have bad roads, deprived or no schools at all, no potable water in most parts and lack jobs. He promised residents that if voted into power he would prioritize their challenges and bring relief to the populace.

"Bring your current MPs (Members of Parliament) home. Mahama should go home, he has failed you. Vote for Papa Kwesi Nduom to be president. I have the track record you can count on for accelerated development and jobs, jobs, jobs. Your MPs and the president have done nothing for you to deserve another four years.

"…All over the world change is happening. Same should happen in Ghana. Today, a man who nobody thought would be president has been elected in America. Same has happened in countries such as Benin. I will be next and people will be shocked. Help make that happen," he charged the people.
The PPP leader said President Mahama's promise to create 3 million jobs if he is re elected is a sign of desperation after failing to deliver on earlier promises.

He warned that four more years for President Mahama will bring untold hardships.

Dr. Nduom has been on a four-day tour of the three northern regions.

He has held several rallies in most of the constituencies in the three regions and has met with traditional leaders who received him well and assured him of the support of the gods.

Dr. Nduom is expected to round of his campaign today and move to the Central region for a rally on Saturday in Mankessim.