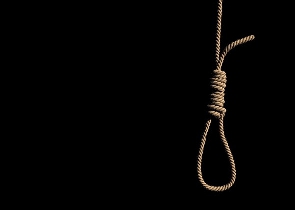 A 53-year-old woman, Georgina Acquah has allegedly hanged herself at Nyankumase Ahenkro in the Assin South District of the Central Region.
She was found with about one and a half yards of rope tied to her neck hanging on a cocoa farm near her house on Thursday, 27th July 2023.

Emmanuel Acquah, son of the deceased upon seeing her mother hanging on the cocoa tree, informed neighbours about the incident and subsequently reported to the police.

Police then visited the crime scene and found the deceased lying in a supine position under the cocoa tree.

According to Emmanuel, he's shocked over his mother's death as she didn't tell him she had any problem.
He narrated that he was asleep in the same room with his mother but later realized that she was not in the room, so he went out to search for her only to see her lifeless body hanging on a Cocoa tree.

No traces of marks of violence were found on the body, however. She was taken to Abura Dunkwa Government Hospital where she was clinically pronounced dead.

Meanwhile, the body has been kept at the same hospital morgue for preservation and autopsy.