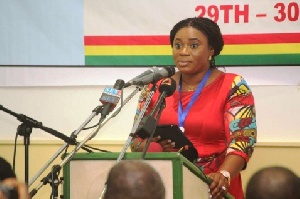 The Electoral Commission will look into claims of a bloated voters register being advanced by the main opposition New Patriotic Party, Chairperson of the body Charlotte Osei has said.
At a stakeholders' forum to speak to issues of whether or not Ghana needed a new register or clean up of the existing one, Madam Osei said the Electoral Commission is awaiting more documents from the NPP and would look into the issues once they were provided.

Citing the case of a bloated register in the Ketu South Constituency, Madam Charlotte Osei, who has taken over from Afari Gyan as boss, said the EC is yet to receive a detailed documentary evidence, and would be glad to work on them once provided.
In the case of foreign nationals infiltrating the current register, and citing the Togolese register example, she said the EC has asked the Party to provide it with a comprehensive report which should include names of the alleged cloned persons. The current document submitted to it, she said, has no such thing.

A two-day forum put together by the EC is seeking to garner views from stakeholders. It came in the wake of several protests pushing for a new register.